After the brief "holiday" in Agios Ioannis, it's now time to head back to Athens. This time for much longer.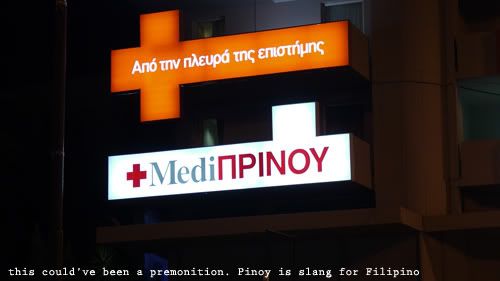 We arrived near Athens, in Drosia, at around nightfall and we were growing more and more hungry by the minute. After some weeks of Greek fare I thought we'd opt for something different, something more spicy and.. well, asian. Finally we found The Royal Thai, a really nice and empty (at the moment we arrived, remembered later that Greeks eat late) restaurant. I was so happy! I haven't had Thai food since the move to Italy and there aren't many asian restaurants there either.
Surprise of all surprises was that our two courteous attendants were not Thai but Filipino. Maybe not so much of a surprise after I heard them talk, being a Filipina myself it was like an instant recognition. And, as we always do, we started laughing, talking and sharing each other's stories. The husband of one of the waitresses was the chef and after hearing about the Filipina guest, made the serving portions MORE than adequate. A feast of Phad Thai, Thom Yum, spring rolls, and spicy curry graced the table - with free rice dumplings in coconut milk dessert. Truly mind-blowing.
Another testament to Filipino generosity and hospitality was an invitation to the waitress' birthday party at her house. She was so excited that she even offered to cook any Filipino food I missed. Fra made a special request for Turon, a banana-filled spring roll and traditional snack. We exchanged numbers and set the dates knowing well by now that Athens Part 2 would be much more than we could dare to imagine. Onwards!